Miroslav Brass Refill
Miroslav Brass Refill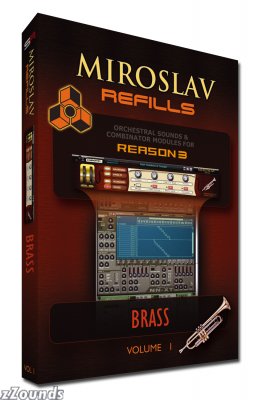 The most expressive brass samples to date!
Instantly playable solo and ensemble Brass featuring trumpets, trombones, French horns, tuba and more from the Miroslav Orchestra archives. Plenty of performance articulations such as sustained, portato, staccato, vibrato, muted, looped and non-looped full duration plus orchestral layers for a majestic symphonic sound. Includes additional bonus symphonic textures and powerful interactive orchestra combis.
This library contains:
-- Multisamples for Combinator
-- Multisamples for NN-XT
-- 2.43 GB
-- 464 sounds
Technical Info
System Requirements
Reason 2.5 or higher. Reason 3.0 is necessary to utilize the Combinator modules.
http://rapidshare.com/files/78404440/Sonic_Reality_Miroslav_Brass_Refill.part01.rar
http://rapidshare.com/files/78532582/Sonic_Reality_Miroslav_Brass_Refill.part02.rar
http://rapidshare.com/files/78544616/Sonic_Reality_Miroslav_Brass_Refill.part03.rar
http://rapidshare.com/files/78539795/Sonic_Reality_Miroslav_Brass_Refill.part04.rar
http://rapidshare.com/files/78548346/Sonic_Reality_Miroslav_Brass_Refill.part05.rar
http://rapidshare.com/files/78550472/Sonic_Reality_Miroslav_Brass_Refill.part06.rar
http://rapidshare.com/files/78555919/Sonic_Reality_Miroslav_Brass_Refill.part07.rar
http://rapidshare.com/files/78568012/Sonic_Reality_Miroslav_Brass_Refill.part08.rar
http://rapidshare.com/files/78570145/Sonic_Reality_Miroslav_Brass_Refill.part09.rar
http://rapidshare.com/files/78572781/Sonic_Reality_Miroslav_Brass_Refill.part10.rar
http://rapidshare.com/files/78575056/Sonic_Reality_Miroslav_Brass_Refill.part11.rar
http://rapidshare.com/files/78577855/Sonic_Reality_Miroslav_Brass_Refill.part12.rar
http://rapidshare.com/files/78589504/Sonic_Reality_Miroslav_Brass_Refill.part13.rar
http://rapidshare.com/files/78595699/Sonic_Reality_Miroslav_Brass_Refill.part14.rar
http://rapidshare.com/files/78602078/Sonic_Reality_Miroslav_Brass_Refill.part15.rar
http://rapidshare.com/files/78607522/Sonic_Reality_Miroslav_Brass_Refill.part16.rar
http://rapidshare.com/files/78612419/Sonic_Reality_Miroslav_Brass_Refill.part17.rar
http://rapidshare.com/files/78635135/Sonic_Reality_Miroslav_Brass_Refill.part18.rar
http://rapidshare.com/files/78637532/Sonic_Reality_Miroslav_Brass_Refill.part19.rar
http://rapidshare.com/files/78640547/Sonic_Reality_Miroslav_Brass_Refill.part20.rar
http://rapidshare.com/files/78735583/Sonic_Reality_Miroslav_Brass_Refill.part21.rar
http://rapidshare.com/files/78374626/Sonic_Reality_Miroslav_Brass_Refill.part22.rar
http://rapidshare.com/files/78377852/Sonic_Reality_Miroslav_Brass_Refill.part23.rar
http://rapidshare.com/files/78735528/Sonic_Reality_Miroslav_Brass_Refill.part24.rar
http://rapidshare.com/files/78742355/Sonic_Reality_Miroslav_Brass_Refill.part25.rar
http://rapidshare.com/files/78740092/Sonic_Reality_Miroslav_Brass_Refill.part26.rar
http://rapidshare.com/files/78744978/Sonic_Reality_Miroslav_Brass_Refill.part27.rar
http://rapidshare.com/files/78745099/Sonic_Reality_Miroslav_Brass_Refill.part28.rar
http://rapidshare.com/files/78751769/Sonic_Reality_Miroslav_Brass_Refill.part29.rar
http://rapidshare.com/files/78751818/Sonic_Reality_Miroslav_Brass_Refill.part30.rar
http://rapidshare.com/files/78816037/Sonic_Reality_Miroslav_Brass_Refill.part31.rar
Related News: